Memory Module Tester maker CST Inc, has announced a new test system and test method of significantly reducing the number of DDR3 memory modules which will suffer from ELF (early life failures). "Early Life Failure" describes the malfunction of memory chips long before their expected end of life.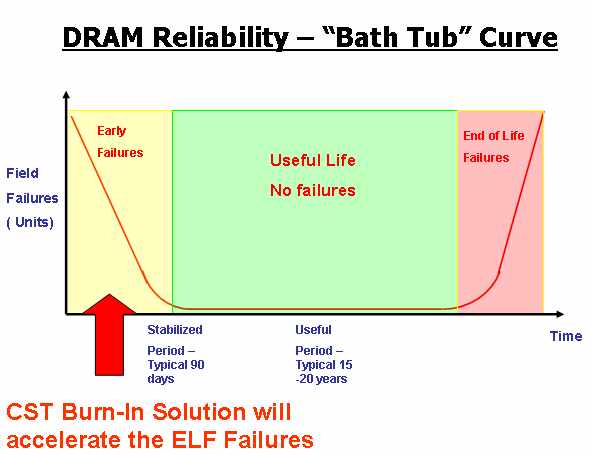 CST inc, calls the new process - "ABT" or "Accelerated Burn-in Technology." This process is designed for memory modules to be subjected to near "Boiling-point" or the under influence of Heat-Stress in a controlled Heater Box, including bouncing the memory bus voltages during testing.
In memory testing theory, by adding "Heat Stress" and "Bouncing" the supply voltages during memory testing , this process will accelerate and force marginal/weak dram chips to fail very early at the factory before they are shipped to the end-customers. Premature component failure can be described using a "Bath-Tub curve" - see illustrations.( See above)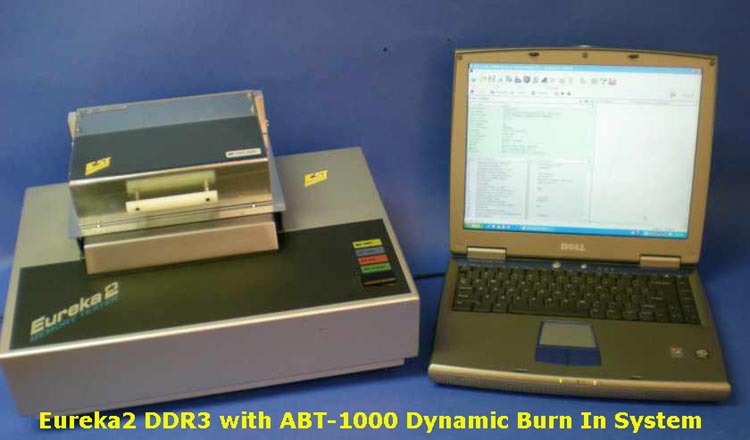 The "ABT-1000" Heater Box System provides a unique and cost-effective approach to testing memory modules up to 90 Degree C. This compact system is ideal for "bench top" applications and includes an integrated thermal heater box using - Halogen Lamp technology for rapid heat ramp-up and precision temperature control for Heat and Cool down.
The "ABT-1000" Heater box sits right on the top of the Eureka2 , SP3000 or EZ-SPD Programmer and is capable of testing a single module or up to hundreds of DIMM modules per production shift , if the testers is interfaced with CST 's RoboFlex3 Pick and Place Handler System.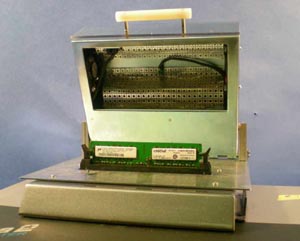 The DIMM memory modules are slotted onto Heavy Duty Yamaichi test sockets with CST's own designed burn-in testing software and user interface. The "ABT-1000" Burn-In Heater Box is able to elevate temperature up to 90 degrees Celsius in a matter of seconds with burn-in time for as short of 15 minutes or for of as long as 24 hours for aging modules.
CST Inc, understands the effectiveness of temperature stressing Dram Memory components with high temperatures and variable voltages, which can result to memory modules that never fails before the End of Life.
The new "ABT-1000" Burn-In Heater Box is targeted for the memory module manufacturers and large memory distributors. It is indeed the lowest cost Burn-in test system and the easiest to use in its class.

An advanced PC software on both the Eureka2 and SP3000 is required for interfacing with a PC via the USB port for controlling the Heater Box. The "ABT-1000" Burn-In Heater Box can be interfaced with CST 's RoboFlex3 Automatic Handler for mass volume production testing.Common applications for use of the system

Download a copy of the "ABT" Heat Chamber from this link.

http://www.simmtester.com/page/products/productSpecs/ABT-1000%20Heat%20Chamber%20Brochure.pdf

Watch the Demo on Youtube.

Founded in 1983, CST develops, market, and support computer memory tester software and hardware. CST pioneered the first low cost SIMM tester in 1985. Since then, CST testers have become the standard for the computer manufacturing industry, holding more than 70% of the market in testers for computer manufacturers and third party SIMM manufacturers. With its product lines of DIMM memory testers and handlers, CST is equipped to handle all aspects of memory testing. CST has a comprehensive line of testers ranging from the low-volume service tester to the high-volume manufacturing needs.

CST, Inc. headquarters in Dallas, Texas, USA also has direct offices in Singapore, California, China as well as global distributors strategically located in Australia, Brazil, Canada, China, France, Germany, Hong Kong, Japan, Korea, Switzerland, Sweden, Taiwan,Israel,Spain,Portugal and the United Kingdom.