SP3000
info
Now Shipping DDR3 1700Mhz
Real Time Testing
1600mhz 1333mhz 1066mhz 800mhz
PC3-10666 PC3-8500 PC3-6400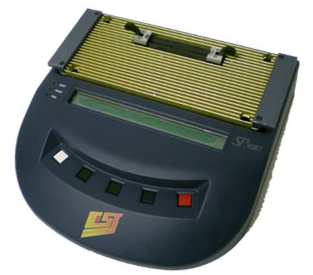 Need Help selecting the
right memory test options?
Use the Tester Configurator
OR
View the entire
SP3000 Test Option list.



CST is Taking DDR,DDR2,DDR3 Memory Testing to New Horizons

CST is proud to offer a portable stand alone and affordable memory tester, combining DIMM and SODIMM testing capability all on the same universal base unit with optional easy plug-on test adapters.
SP3000 tester is equipped for testing a wide variety of memory modules from DDR3, DDR2, DDR to SDRAM to EDO/DRAM memory. Coverage includes 240pins DDR & 204pin DDR3, 240pin, 200pin DDR2, 184pin , 200pin DDR, 168pin, 144pin SDRAM, 168pin, 72pin,30 pin EDO/FPM DRAM SIMMs DIMM SoDIMM memory module.
The same SP3000 Tester support DDR2 PC2-8500,PC2-6400,PC2-5300, PC2-4200,PC2-3200, DDR PC4200, PC3200,PC2700, PC2100, PC1600 DIMM, SDRAM PC133, PC100 and PC66 DIMM , SODIMM, SGRAM Modules , BGA, TSOP Chip testing with easy plug-on optional adapters.

SP3-DDR3 1700 Mhz -Tester Now Shipping!
.
The SP3- DDR3 1700 mhz Test Adapter for 240pin DDR3 DIMM works with any new SP3000 base tester supporting Unbuffered and Registered PC3-6400, PC3-8500 & PC3-10666 DDR3 DIMM modules.
Adapters for testing DDR2 1066 Mhz DIMM and DDR2 800Mhz SODIMM Test support is currently available too.
Testability
The SP3000 Tester has a universal base platform equipped with an easy to read LCD screen for error display , 5 push buttons for selecting different test functions and powered by a universal 110V/230V Switching Power Supply.
The flexible modular structure of the tester simply makes it easy for you to adapt any test adapters to test a wide variety of memory modules on the SAME BASE unit..... DDR3,DDR2, DDR, SDRAM, SGRAM, DRAM SIMM, EDO DIMM, SODIMM modules, PCMCIA memory cards, and memory chips with affordable optional adapters.
.
Watch a Video of the SP3000 DDR2 in action
Tester Options
SP3000 Universal base tester adapts with optional test adapters extending test coverage from DDR2 ,DDR, SDRAM ,EDO and more
DDR3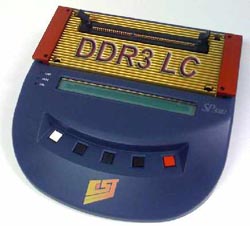 The SP3000 DDR3 LC DIMM Tester set- come with 240pin DDR3 DIMM LC Adapter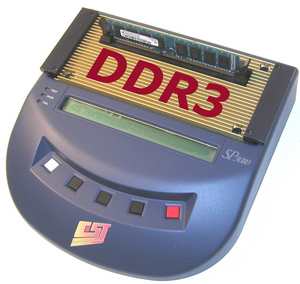 The SP3000 DDR3 1700Mhz DIMM Tester set - come with 240pin DDR3 DIMM Adapter


DDR 1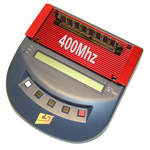 SP3000 DDR1 Tester set
PC-4200, PC-3200, PC-2700, PC-2100 & PC-1600 [DDR 533-200mhz]
SDRAM PC133 PC100 PC66/ DRAM/EDO
------------------------------------------------------------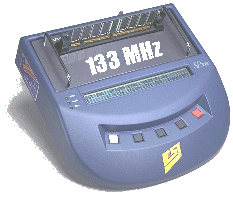 The SP3000 SDRAM Tester Set comes standard with 168pin SDRAM DIMM socket for testing the PC133 , PC100 & PC66 SDRAM DIMM modules and an optional 144pin SODIMM socket for testing Laptop SDRAM memory modules.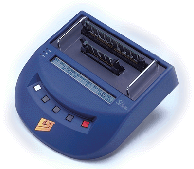 The SP3000 DRAM Standard Tester Set comes with 72pin & 168pin DRAM SIMM/DIMM socket for testing DRAM EDO FPM modules.
*Optional SODIMM Test Adapters are available for testing Laptop DDR memory modules.

...select the combination of adapters that best meet your needs or contact us .


Tester Selection Guide

Shopping for the right tester is never easy. Here are 10 points Guidelines you can use as a reference. Ask yourself and the memory tester company these questions before you buy any memory tester.