CST Inc., a 25 years privately owned Memory Tester Company has announced it is the first to market and will demonstrate its New SP3000-DDR2 1066Mhz DIMM tester at the Cebit How in Hannover ,Germany. The Cebit show is schedule to be held from March 4- 9,2008 at the Hannover Fairground.

The new Sp3000-DDR2 1066 Mhz tester is capable to test the High Speed Performance PC2-8500(DDR2-1066Mhz) ,PC2-6400 (DDR2-800Mhz),PC2-5300(DDR2-667Mhz) and PC2-4200(DDR2-533Mhz) memory modules.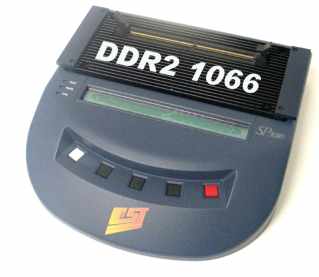 This makes CST, Inc. the first in the industry to provide a low cost real-time test solution for the High Performance DDR2 240-pin standard memory module and it offers the following features not found in other similar testers:
Support all Four Rank Registered DIMM module.
Wide Voltage range adjustment : 1.5 up to 2.4 Volts in 0.1 Volt steps.
Super Fast Test time : 1 Gb DIMM completes in 10 Seconds with detail Marching Test.
Supports 400, 533,667,800 & 1066Mhz Data-rate.
The "SP3000 DDR2 Adapter" is built to work with the CST universal SP3000 base tester, which allow user to swap inter-changeable DDR3,DDR, SDRAM & DRAM test adapters. With a simple push button, the SP3000-DDR2 tester quickly auto-identify and displays the memory size , clock frequency, speed, Registered or Unbuffered memory module. It even reads and programs SPD EEPROM on the DDR2-SDRAM DIMM. Special mechanism is included to satisfy the new JEDEC "Reversible SPD Protect" specifications also.
The
new "SP3000 DDR2 1066Mhz "
series tester provides added troubleshoot capability for the present and future DDR2 memory modules at affordable prices. It is targeted for the Overclockers DIMM manufacturers, High Performance computer system integrators, large retail memory distributors. It is indeed the fastest tester and the easiest to use in its class.
An advanced PC software is available for interfacing to a PC. The SP3000-DDR2 tester can also be interface to CST 's RoboFlex2 handler with a special modified DIMM Pusher System for mass volume testing.

CST is accepting orders now for the SP3000 DDR2 1066Mhz Tester with a 2 -4 weeks delivery leadtime..
Come visit CST at Cebit Show - Booth number : Booth - Hall 21, Stand # B19
For more information regarding the Cebit Show , click on this link :
http://www.cebit.de/homepage_e