Wednesday, March 20, 2013
eMMC is an embedded non-volatile memory system, comprised of both flash memory and a flash memory controller integrated on the same silicon die.
The eMMC devices consists of three components - the MMC (multimedia card) interface, the flash memory, and the flash memory controller - and is offered in the industry-standard BGA package.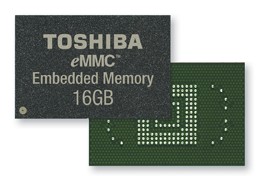 eMMC devices helps simplify boot and mass storage designs for the latest in consumer electronics, including tablets, smartphones, GPS systems, eReaders, and other mobile computing devices.

Based on the latest JEDEC eMMC specification, eMMC memory is produced in extremely compact sizes - freeing up space for other components. Standardized packaging and device specifications ease design work and provide a common footprint for the use of embedded and removable NAND.
eMMC devices offers a single footprint combining boot, embedded storage, and external mass storage in one device.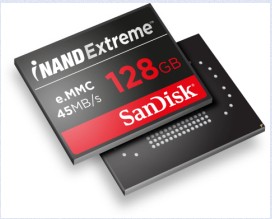 eMMC memory is designed to offer benefits including:
Densities range from 4GB to 128GB.
Reduced design, development, and testing time for product development
Simplified system design and integration of both single-level cell (SLC)-type and multi-level cell (MLC)-type NAND memory.
eMMC Operates at standard voltage levels- 1.8V and 3.3V.
Enhanced storage solutions for mobile devices such as smartphones and tablet PCs, which use eMMC to provide high-density solid state memory.
The widely accepted standard for eMMC is v4.41 as defined in JESD84-A441: Embedded MultiMediaCard (e•MMC) Product Standard v4.41 and JESD84-B45: Embedded MultiMediaCard (e•MMC), Electrical Standard (Version 4.5 Device) for eMMC v4.5.

What is the future for eMMC?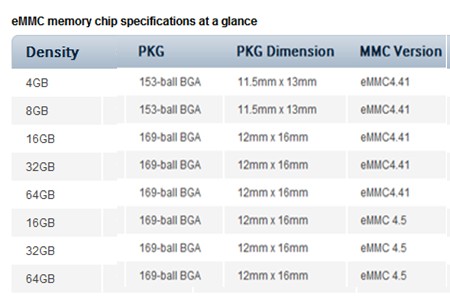 Shipments of eMMC solutions in 2013 are forecast to reach 700 million according to an IHS iSuppli Mobile & Embedded Memory market report.
25 percent of all mobile handsets in 2011 - 2012 surge to 239 million eMMC devices. Other important eMMC segments include tablets, e-book readers and portable navigation devices with global positioning systems (GPS).
By 2015, mobile memory revenue will peak at $17.9 billion, as shown in the figure below.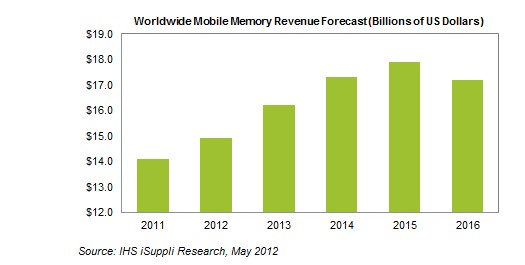 eMMC devices will continue to dominate the market for Android ,iPhone, Window mobile phone for the next few years, the increasing demand for data security in wireless platforms will favor the rising usage of eMMC type Nand Flash in the future.
The eMMC 4.41 standard will continue to be the mainstream preferred devices because of the higher cost of eMMC 4.5 standard.
The benefits of using eMMC by consumer electronics manufacturers and related software developers points will undoubtedly lead to a growth in usage of eMMC in the next few years, especially in areas of digital cameras, smartphones, mobile devices and navigation devices.
These eMMC applications will require a reliable eMMC programming,duplication and functional chip test solution provided by CST.
eMMC Dublicators.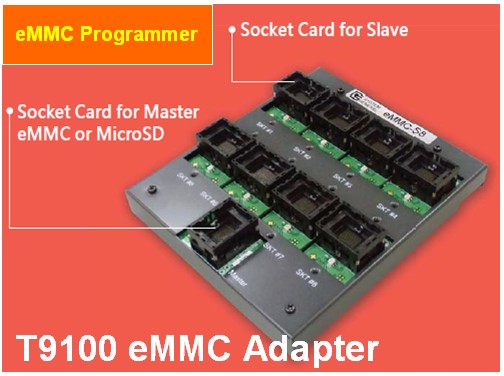 eMCP chip tester link :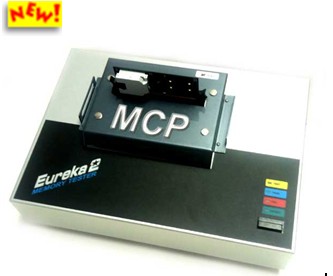 Automated eMMC Handler System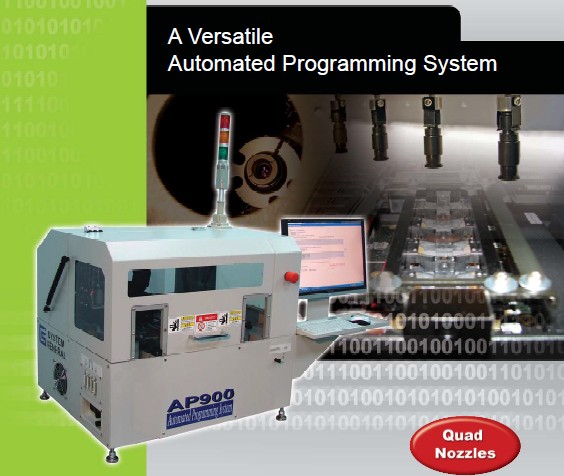 For more information about CST eMMC Test and Duplication solutions, visit
www.simmtester.com
By: DocMemory
Copyright © 2013 CST, Inc. All Rights Reserved